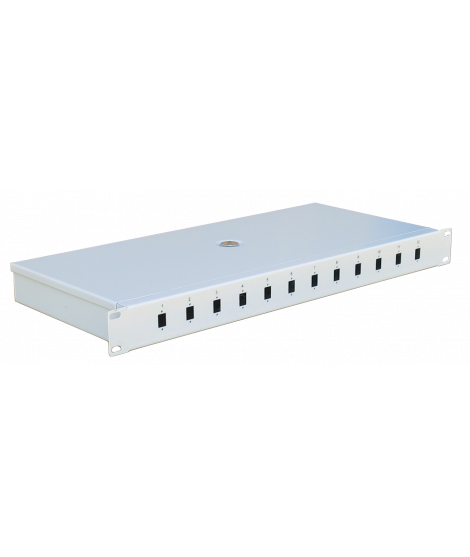 keyboard_arrow_down
PS 19" 1U 12xSX st
Fixed fiber optic switch board made of light gray steel sheet.

Shipping methods
Fiber optic switch board 19" 1U 12xSX st.
- Designed for mounting in 19" cabinets.
- It has 12 holes for SC Simplex adapters.
- Embossing allow the installation of clamps ordering fiber optic fibers.
- Possibility of mounting trays for fiber optic splices.
- The distribution board has the possibility to insert cables from the rear, has 4 holes (2 open and 2 closed) for PG 13.5 included in the set.
Please note: Fibre optic accessories shown in the pictures are not part of the set.
Optimal method of packing - package of 10 pcs.
If you have any questions or doubts, please do not hesitate to contact us on: sprzedaz@mantar.com.pl
Data sheet
Height

1U mm

Width

19" mm

Depth

212 mm

Weight

3 kg

Sheet

1 mm

Colour

RAL7035 light gray, powder coated, structure: thick

Optimal method of packing

10 psc in a pack
Reviews
No customer reviews for the moment.