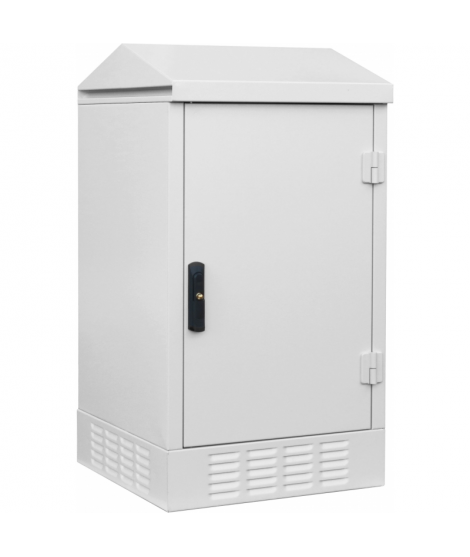 keyboard_arrow_down
SZK 18U 19" 113/61/89 with air conditioner
Outdoor cabinet for installation on SK1 channel sump. Weatherproof, made of sheet with Magnelis® coating.

Shipping methods
SZK 18U 19" cabinet is a mechanical cover for telecommunication equipment. It is made of steel sheet in light grey colour, thick structure and it is resistant to corrosion.
- Made of sheet metal with Magnelis® coating 1,5 mm thick.
- Lockable with a 3-point bolt lock with a padlock bolt, swing handle.
- Degree of protection IP65, mechanical resistance IK 10 (confirmed by test report No. B/2016/356).
- The cabinet has a double sheath made of sheet metal - internal sheet metal wall with Magnelis® coating 1 mm thick.
- The upper and lower parts are connected with a 150mm high grommet.
- Plinth made of sheet metal with a Magnelis® coating 2 mm thick, 150 mm high, with ventilation holes.
- 2 pairs of 19" rack - adjustable distance between the front and rear pair from 260 mm to 430 mm.
The cabinet is equipped as standard:
- 640W air conditioner (voltage: 230V) manufacturer: TEXA model: EMO06BM1B,
- 3 voltage distribution panel,
- Heating set consisting of a semiconductor blower CSL028 250W controlled by means of an electronic hygrotherm ETF-012,
- Additional thermostat-controlled fans installed in the roof.
Additional equipment:
- Shelf 19" 1U,
- PS 19" 1U 24xSC Simplex/Duplex pull-out,
- PS 19" 2U 48xSC Duplex SC Duplex pull-out.
Due to the dimensions and weight, the cabinet is transported on a pallet.
If you order more than 1 pc, please contact us for an individual valuation of transport costs.
If you have any questions or doubts, please do not hesitate to contact us on: sprzedaz@mantar.com.pl
Data sheet
Height

1160 mm

Width

610 mm

Depth

890 mm

Weight

110 kg

Sheet

1.5 mm

Colour

RAL7035 light gray, powder coated, structure: thick

Optimal method of packing
Reviews
No customer reviews for the moment.