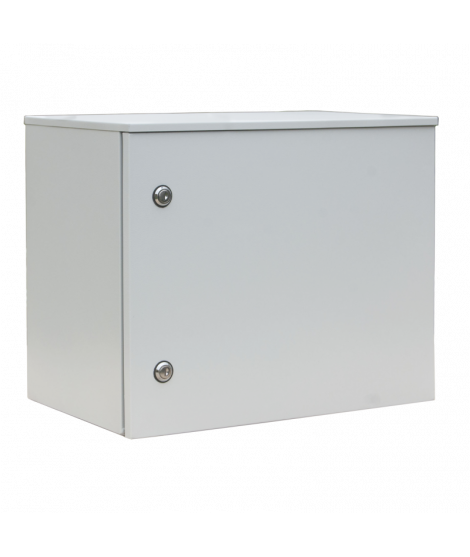 keyboard_arrow_down
SM-42/55/32 19" 5U
Hermetic cabinet, outdoor weatherproof (made of sheet with Magnelis® coating).

Shipping methods
SM-42/55/32 19" 5U cabinet is a mechanical cover for telecommunication equipment. It is also suitable for wall mounting in offices, network server rooms and control rooms of CCTV installations. It is made of steel sheet in light grey colour, thick structure and it is resistant to corrosion.
- Made of sheet metal with Magnelis® coating 1 mm thick.
- Degree of protection IP65, mechanical resistance IK10 (confirmed by test report No. B/2016/233).
- Full door with poured polyurethane gasket.
- Closed with two hermetic locks.
- Possibility of mounting with U-bolts on a ø50 mm mast (wall-mounted option).
- Standard equipped with 2 holes ø16 mm and 1 hole ø24 mm, sealed with airtight glands.
Additional equipment:
- 19" 5U rack handles mounted vertically (the distance between handles and door is 80mm) or horizontally,
- Shelf 19" 1U deep 200mm(rack-mounted),
- A set of pole holders 558mm (2 pcs),
- PS 19" 1U 24 x SC Duplex/Simplex,
- Moisture compensator, with an integrated diaphragm, pushes moisture and air outside when the pressure changes, only air is let in. Additional protection installed in the box against moisture and dust. (Compensators themselves have IP-66, the cabinet IP-65.)
Optimal method of packing - package of 2 pcs.
If you have any questions or doubts, please do not hesitate to contact us on: sprzedaz@mantar.com.pl
Data sheet
Height

416 mm

Width

558 mm

Depth

317 mm

Weight

7 kg

Sheet

1 mm

Colour

RAL7035 light gray, powder coated, structure: thick

Optimal method of packing

2 pcs in a pack
Reviews
No customer reviews for the moment.