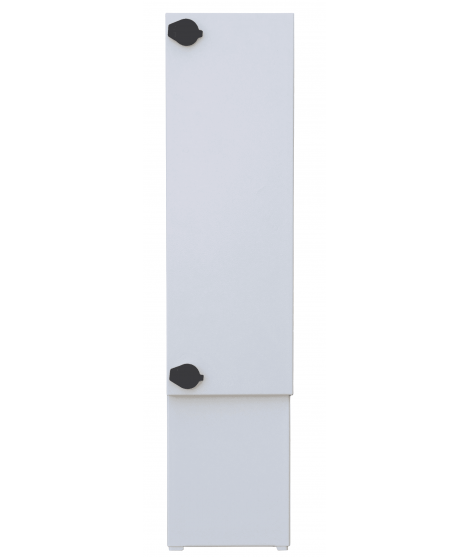 keyboard_arrow_down
RSZ-79/18/6 12J
Cabinet designed for outdoor installation, for the FTTx network. Made of sheet with Magnelis® coating.

Shipping methods
Outdoor cabinet RSZ-79/18/6 - 12J, designed for FTTh networks where simple construction allows for any arrangement of optical fibers. It is made of steel sheet in light grey colour, thick structure and it is resistant to corrosion.
- Made of sheet metal with Magnelis® coating 1mm thick.
- Protection IP65 and mechanical resistance IK10 ratings.
- In the upper part of the cabinet there is a separate space for supplying the source cable, together with the field for the 2J signal source and the tray of welds.
- The upper part of the door has space for optical splitter and metal holders for storage.
- In the bottom part of the door, a commutation field with a capacity of 12J (12 holes for SC SX adapters) with a place for a 12J splice tray.
- Cable entry plugged with a multi-hole gland.
- Door closed with 2 airtight cylinder locks (dedicated key code).
- Poured polyurethane gasket on the door.
- Removable panels allow for convenient welding at a distance from the cabinet.
- Cabinet designed for wall mounting.
- Possibility of making the cabinet in a duplex version
- Warranty 5 years for anti-corrosion protection.
Please note: Fibre optic accessories shown in the pictures are not part of the set.
Additional equipment:
- Splice tray,
- Adapters.
Optimal method of packing - package of 4 pcs.
If you have any questions or doubts, please do not hesitate to contact us on: sprzedaz@mantar.com.pl
Data sheet
Height

793 mm

Width

188 mm

Depth

65 mm

Weight

0 kg

Sheet

1 mm

Colour

RAL7035 light gray, powder coated, structure: thick

Optimal method of packing

4 pcs in a pack
Reviews
No customer reviews for the moment.