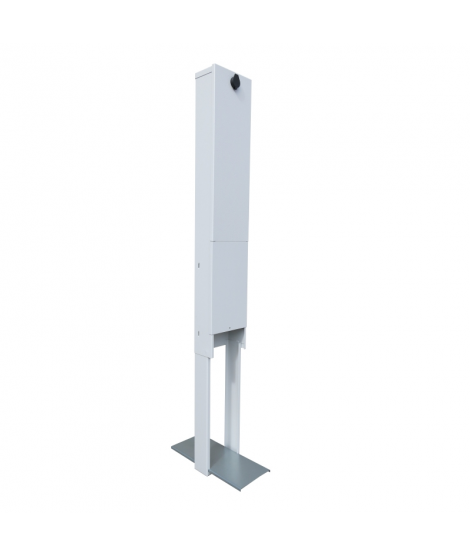 keyboard_arrow_down
RSZ-146/18/10 16J
Cabinet designed for outdoor installation, for the FTTx network. Made of sheet with Magnelis® coating.

Shipping methods
Outdoor cabinet RSZ-146/18/10 - 16J, designed for FTTh networks where simple construction allows for any arrangement of optical fibers. It is made of steel sheet in light grey colour, thick structure and it is resistant to corrosion.
- The body, powder coated, is made of sheet metal with Magnelis® coating 1mm thick.
- The pedestal made of sheet metal with a Magnelis® coating 1.5mm thick, designed for mounting by digging into the ground to a depth of 60cm.
- The upper part of the cabinet has IP65 rating obtained by separating it from the lower part with a sealing insert, mounted after laying the optical fibers.
- Completely removable door locked with 1 hermetic cylinder lock (dedicated key code).
- Poured polyurethane gasket on the door.
- In the upper part of the cabinet two specially profiled inserts designed for mounting optical network elements such as adapters and splice trays.
- Insert in the operator part with a capacity of 2J (2 holes for SC Simplex adapters) and a client with a capacity of 16J (16 holes for SC Simplex adapters).
- Removable panel allows convenient welding at a distance from the cabinet.
- Insert mounting bracket on the back wall also acts as cable / coil holder.
- The ground part of the cabinet after mounting the pedestal is 86cm.
- Warranty 5 years for anti-corrosion protection.
- In case of a free-standing cabinet, it is recommended to flood with minimum 10 cm of concrete. In case of placing the cabinet next to the wall, fence or pole, it is not necessary.
Please note: Fibre optic accessories shown in the pictures are not part of the set.
Additional equipment:
- Splice tray,
- Adapters.
Optimal method of packing - package of 2 pcs.
If you have any questions or doubts, please do not hesitate to contact us on: sprzedaz@mantar.com.pl
Data sheet
Height

1459 mm

Width

185 mm

Depth

103 mm

Weight

9 kg

Sheet

1 mm

Colour

RAL7035 light gray, powder coated, structure: thick

Optimal method of packing

2 pcs in a pack
Reviews
No customer reviews for the moment.
Related Products..